Chrysta Bell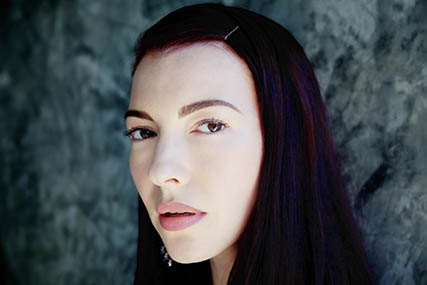 CHRYSTA BELL
Chrysta Bell is a musician, actress, performing artist and recording artist who incorporates dynamic theatrical and multimedia elements into unique performance experiences.
She began singing and performing very early in life. Her parents owned and operated the largest recording studio in her hometown of San Antonio, Texas, and always encouraged and supported her passion for music. She was an experienced session singer and stage performer by the time she turned 14. By 18 she had become lead vocalist for the popular Austin, Texas- based continental swing act, 8 ½ Souvenirs. During a four year run with the band she was signed to RCA Victor, performed on TV shows like Austin City Limits, shared the stage with the likes of Willie Nelson and Brian Setzer, and toured America extensively. At age 21 she had a fateful meeting with legendary artist David Lynch, and the two began a musical collaboration that yielded both the haunting 'Polish Poem' from his INLAND EMPIRE soundtrack and the critically acclaimed 11-song album titled This Train, released in 2011 on La Rose Noire Records.
The momentum of This Train afforded Chrysta Bell the opportunity to bring her singular performance experience to 29 countries in venues like Silencio and Foundation Cartier in Paris, France, Teatro Franco Parenti in Milano, Italy, and the Museum of Modern Art in Brisbane, Australia. Lynch and Chrysta Bell's musical collaborations continued with the release of a 5- song EP entitled Somewhere in the Nowhere released October 7, 2016, with the single "Night Ride" enjoying a world premiere on the influential music website Pitchfork. Lynch has announced that Chrysta Bell has been cast in the upcoming continuation of cult televsion show Twin Peaks, airing on Showtime in spring of 2017. Chrysta Bell was featured in the most recent trailer for the highly anticipated series.
For her upcoming second full- length release, Chrysta Bell has teamed up with Mercury Award- winning producer John Parish(P.J. Harvey) for a dynamic pop record incorporating elements of rock, soul and jazz. The album, called "We Dissolve", is due for release in early 2017 and includes contributions from guests including Adrian Utley of Portishead, keyboardist Geoff Downes of Asia and Yes, and drone metal guitarist Stephen O'Malley of Sunn O))).