Calypso Rose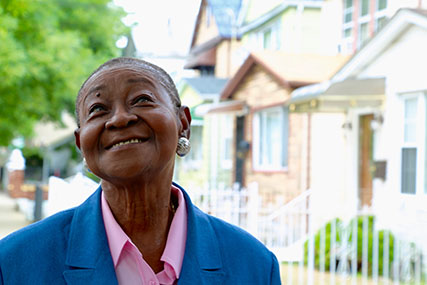 Calypso Rose
The Tobagonian singer Calypso Rose has enjoyed a long and celebrated career as the matriarch of the genre from which she takes her name. She's released around 20 albums, has collaborated with artists including Bob Marley & The Wailers, won the prestigious "Calypso King" competition enough times that they renamed it the gender neutral "Calypso Monarch" in her honor, and has been the recipient of countless awards, including the International Caribbean Music Award's Lifetime Achievement Award. The New York Times has praised her "deeply authoritative, irresistibly buoyant take on calypso," and The Fader writes, "At 76, the calypso legend still hasn't lost the pulse of the party."
Rose's latest album, Far From Home, which finds her collaborating with Manu Chao, achieved massive success in Europe upon its release in 2016, hitting the top of the charts in France and receiving the Victoires de la Musique (French Grammy) for World Music Album of the Year.
Produced by Ivan Duran, with Drew Gonsalves (Kobo Town) co-writing some of the songs and composing the arrangements, Far From Home showcases Rose's vitality, unfolding with changes in rhythm, color and mood reminiscent of the musical parades of Carnival. In their four-star review of the album, The Guardian writes, "[Rose] shows how calypso can be transformed into an exuberant, infectious dance style." From traditional calypso songs such as "Woman Smarter" and "No Madam," to mento tracks like "Trouble," to the ska-like "Far From Home" and socca of "Zoom Zoom Zoom," the result is an energetic, breathless, feverish collection.
Manu Chao, who joined the project when the two met by chance while he was on holiday in Port of Spain, left his unmistakable mark on three tracks: "Leave Me Alone," "Far From Home" and "Human Race." When it comes to choosing projects to work on, Chao attests that he only follows his heart, and in Rose he not only recognized a totally unique artist, but also a heroic figure whose entire life is a lesson.
Born McCartha Linda Lewis in Bethel, a small village on the island of Tobago, Rose was the daughter of a Baptist preacher who thoroughly opposed to her pursuing a musical career. Never one to simply follow orders, she composed her first song at the age of 13 and began performing around Trinidad and Tobago under the name Crusoe Kid, and later as Calypso Rose. She spent 17 years singing on cruise ships for the New York-based company Celebration At Sea, eventually graduating to the legendary stages of the Apollo Theater and Madison Square Garden to perform with two of the greatest Calypso artists: Lord Kitchener and Mighty Sparrow. A fighter her whole life through, Rose has survived sexual assault, cancer and two heart attacks, and has disrupted the established order of Calypso, which until her arrival was dominated by men. Only those who have overcome such hardships can sing life not only with such force, but also with such pleasure, as Far From Home attests.
Indeed, if Far From Home is filled to the brim with joy, it also bears the traces of the ever-alert conscience of a woman who's still fighting the good fight, denouncing domestic violence in "Abatina," or social injustice in the new version of "No Madame," a song she wrote in the 70's which led to government intervention in Trinidad to stop the exploitation of domestic servants. Her memory reaches beyond her own existence in "I Am African," encompassing the destiny of the entire black diaspora. With her courage, her strength and her humanity, only she could, in these times of discord and global violence, sing such songs of universal love and fraternity.