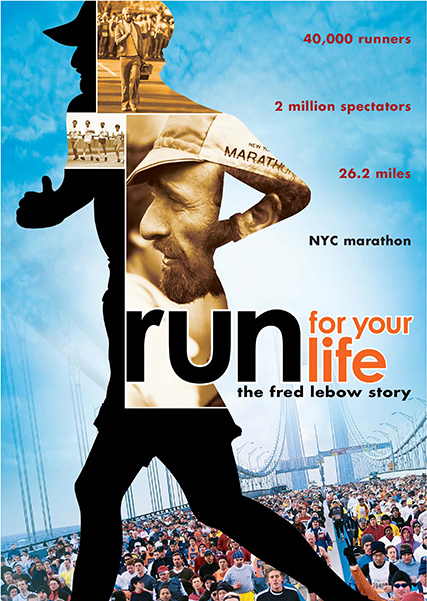 JUDD EHRLICH'S EMMY-NOMINATED RUN FOR YOUR LIFE
The subject of Judd Ehrlich's Emmy-nominated documentary Run for Your Life is one of the most influential and unlikely American icons, Fred Lebow, who fled his Orthodox home in war-torn Europe and found his calling when he brought together a ragtag group of runners for the first NYC Marathon in Central Park. In 1976, Lebow took the race through all five boroughs, uniting a divided city and sparking a worldwide fitness boom.
Lebow lived for the NYC Marathon, yet he only ran through the five boroughs once, as the world looked on, in an unforgettable race against the odds. Ehrlich's film tells this remarkable story of how one man ran New York and inspired millions to do the same.
To tell the story of Lebow and the colossal, spectacular, annual event he created, Run for Your Life employs not only a rich body of interviews with him, and archival footage of his life and the event, but also exclusive interviews with a diversity of related individuals: New York City officials such as late Mayor Ed Koch, Manhattan Borough President Percy Sutton and former Parks Commissioners Gordon Davis and Henry Stern; Lebow family members Moshe Katz, Sarah Katz and Mike Lebowitz; New York City icons including Howard Rubenstein, Jack Rudin and Mike Frankfurt; New York Times reporters Neil Amdur and George Vescey; original marathoners Norb Sander and Gary Muhrcke (winner of the first NYC Marathon in 1970); and other notable athletes including Bill Rodgers, Alberto Salazar, Grete Waitz, Nina Kuscsik, Frank Shorter and Kathrine Switzer. The film includes the last known interview with Ted Corbitt, an Olympian and pioneering African-American runner who founded what would become the New York Road Runners Club. Known as the "Jackie Robinson of running," Corbitt died while the film was being made.
Last updated: July 1, 2013
CONTACT