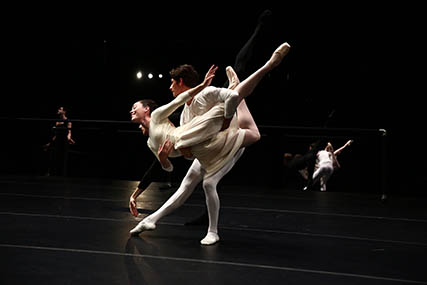 Photo of Jack Ferver's
I Want You to Want Me
as part of Lumberyard's Summer Engagement at
The Kitchen
2016. Photographer: Paula Court
LUMBERYARD CONTEMPORARY PERFORMING ARTS
Lumberyard Contemporary Performing Arts, based in New York City and led by Executive and Artistic Director Adrienne Willis, is a national non-profit organization that evaluates the needs of artists throughout their creation process and fills gaps in the structures that exist to support them. Lumberyard welcomes audiences of all experience levels into the inner world of the contemporary performing arts, giving them opportunities to witness the creation, as well as the performance, of new work.
Among Lumberyard's varied and ever-expanding offerings are an acclaimed residency program that gives artists and companies from across the U.S. housing, space, time and other resources to develop new work before a New York or national premiere; a now-annual New York City season of premieres, inaugurated in 2016 at—and returning in 2017 to—The Kitchen; and the Solange MacArthur Award for New Choreography.
Lumberyard has broken ground on a state-of-the-art facility in Catskill, New York. When it opens in the spring of 2018, the four-building facility on the Hudson River waterfront will allow the organization to drastically expand its activities, especially its residency program. Lumberyard will make a significant contribution to the village's revitalization efforts. The complex consists of a main lumberyard building in Catskill and three large adjacent barns along Catskill Creek. There will be a large, column-free, flexible theater, a lobby, administrative offices, housing for up to 20 resident artists, a chef's kitchen, an artist lounge and a public courtyard. Phase II of the project, for which a start date has not been set, encompasses the three adjacent structures, which Lumberyard will develop in collaboration with the Village of Catskill and in line with the Village's Downtown and Waterfront Revitalization Strategy.
Each year in Catskill, Lumberyard will present a summer season consisting of premiere and work-in-progress performances by celebrated professional artists and companies, serving local residents and attracting tourists from across New York and beyond. From October through April, the facility will be available for collaborative residencies, subsidized and commercial rentals, and community programming.